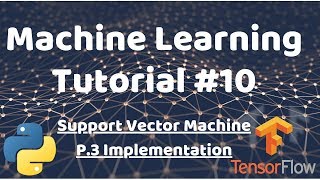 Python Machine Learning Tutorial #10 - SVM P.3 - Implementing a SVM

This python machine learning tutorial covers implementing a support vector machine to classify data.
⭐ Kite is a free AI-powered coding assistant for Python that will help you code smarter and faster. Integrates with Atom, PyCharm, VS Code, Sublime, Vim, and Spyder. I've been using Kite for 6 mo...
Tech With Tim
【予測】200万人まであと644日(2024年7月9日)
チャンネル登録
RSS
Learn programming, software engineering, machine learning and everything tech from this channel. With a special emphasis on python and javascript my channel aims to give you free resources so that you can learn to code and dive into the software engineering and programming industry. My goal is to...
Learn programming, software engineering, machine learning and everything tech from this channel. With a special emphasis on python and javascript my channel aims to give you free resources so that you can learn to code and dive into the software engineering and programming industry. My goal is to provide the highest quality programming and tech videos on the internet!